News
09.06.2022
Finnish JTK Power is the top expert on air raid shelter equipment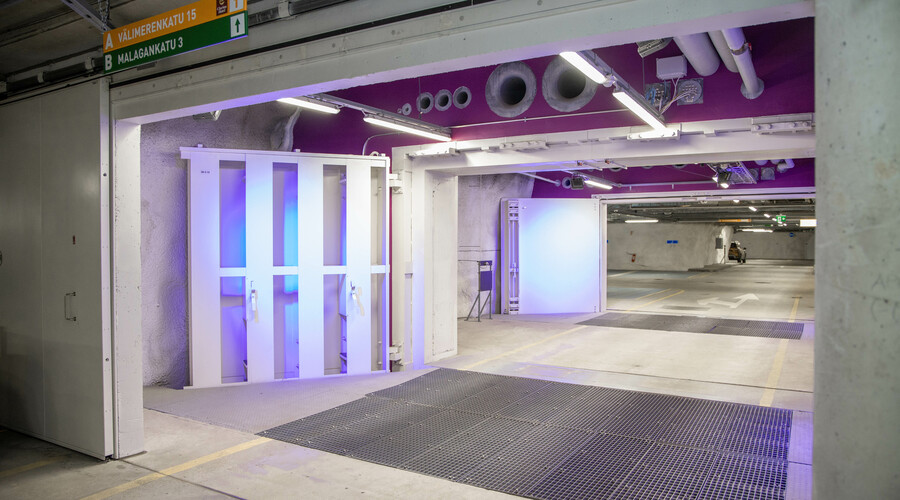 From 1958 Metalli-Jokela Oy has delivered cast products, such as hatches and doors to Finnish air raid shelters. JTK Power bought the operations of Metalli-Jokela in 1998. So, if you step in your nearest air raid shelter, you might notice the sign of approval of Metalli-Jokela, our auxiliary business name.
Modern ventilation unit is the heart of an air raid shelter
JTK Power has continued developing their air raid shelter equipment and in 2020 the company released their modern solution for new air raid shelters in the form of S1 classified ventilation unit. The ventilation unit is equipped with activated carbon filter which filters several poison gasses. The ventilation unit runs on electricity, but it is also equipped to be used manually so on the hour of need it is still usable.
IVL-1 ventilation unit maintains excess pressure in the air raid shelter during crises and it also filters hazardous gasses and particles from the air flowing into the shelter. The product fills all the requirements set for the ventilation unit of an air raid shelter.
Pekka Rajajärvi has done his career in the Ministry of the Interior amidst building of civil protection, technical requirements, and counselling. Nowadays, he works as a consultant and an educator of civil protection. According to Rajajärvi, JTK Power is on an expert level when it comes to designing and developing air raid shelters:
– JTK Power has experience on air raid shelters from the 1970's. They are experts of different manufacturing methods, and they have an impeccable understanding of the quality requirements of the products.
Rajajärvi says that Finland's air raid shelters are on an excellent level when compared globally. Civil protection is an export product; Finnish export their know-how and products of civil protection for 20 million euros every year. Finnish air raid shelters have also been noticed globally during last weeks. CNN visited Helsinki-based air raid shelter and wrote an article about it.
Deliveries of air raid shelters and design help to Sweden
– We are brave enough to state that among the Nordic countries Finland has the best knowledge of building and maintaining air raid shelters. And we want to share this knowledge to others too. Sweden is without a doubt one significant area to which we gladly offer our help in the form of design and execution of air raid shelters, says Anders Kannelhovi, Sales and Product Manager of JTK Power.
Currently Finland has air raid shelters for 4,3 million people and the shelters for around one million people are in a need of repair. Rajajärvi thinks that JTK Power's modern ventilation unit is the right fit for the shelters which need repairs.
– Now it is more than great time to renew the shelters which have been built in between 1959-1971. These shelters most probably still have sand filters. JTK Power's ventilation unit is the perfect choice to replace the sand filter. Sweden must also renovate their old air raid shelters and build new ones, Rajajärvi estimated already in 2020.