News
04.08.2021
JTK Power expands its component manufacturing to include projects – participating in Pesmel Oy's project to supply the TransRoll system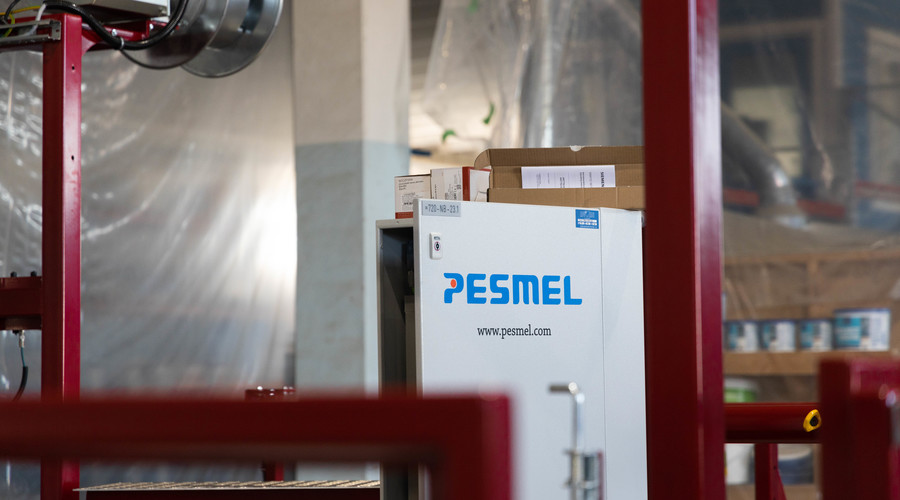 Pesmel's TransRoll material flow system is currently being installed at a customer's factory in Spain. A part of this large and demanding project will be supplied by JTK Power, which is breaking new ground with this type of project delivery of component manufacture.
"This is a significant project consisting of several mechanical devices. We chose JTK Power to handle a part of the delivery because they are reliable, have efficient operations, produce excellent quality and are able to successfully complete their share of the job," says Sourcing Manager Marko Mesiäislehto from Pesmel.
Efficient project management and keeping to the agreed schedule are extremely important in long projects made up of many deliveries that need to happen at exactly the right time to keep the project moving. In addition to JTK Power's welding and assembly expertise, Pesmel's choice was influenced by its confidence in JTK Power's ability to manage its share of the project well, from material procurement to production to delivery.
"We want our partners to be turnkey suppliers who are able to independently assume responsibility for their share of the equipment manufacture for the project. This keeps the project running smoothly, saves us time and allows us to direct our resources where they are needed," says Production Director Mikko Marttila from Pesmel.
Active communication and clear reporting are key
Marko Mesiäislehto and Mikko Marttila are especially impressed by JTK Power's active and effective communications. For them, this is a key skill in a successful and efficient project.
"I'm particularly impressed by JTK Power's natural, positive and human-oriented communication style. The company's contact persons always take a determined, smart and customer-focused approach," Mesiäislehto says.
"Clear and efficient communication is by no means self-evident, although it is one of the key factors in excellent cooperation. Before starting the project and choosing a supplier, we go through the costs and carry out a quality audit, but once the work is under way, it is communication and reporting that stands out to us. We have been extremely happy with both in JTK Power's case," Marttila concludes.
A solution-based approach keeps the wheels turning
According to Marttila, acting as a subcontractor for Pesmel requires exceptional flexibility, the ability to handle challenges and excellent project management skills.
"Many companies are used to carrying out serial production in a chosen production batch size, but our partners must be able to manufacture components that they have never made before. Drawing up a schedule for the different stages of the operation and performing subcontracting at the right time requires the company to have a good understanding of what the project involves."
Marttila explains that JTK Power's customer-oriented and active approach is also evident in its excellent ability to solve problems and handle challenges.
"What's great about JTK Power is that they recognise challenges and tackle them themselves and suggest ways of solving them. All in all, our cooperation has gone very well, and we are happy to continue working together in the future. We see a lot of potential in JTK Power as a supplier of various parts of projects."