News
21.05.2021
JTK Power improves welding productivity - faster product cycle times and cost-effective manufacturing with robotic welding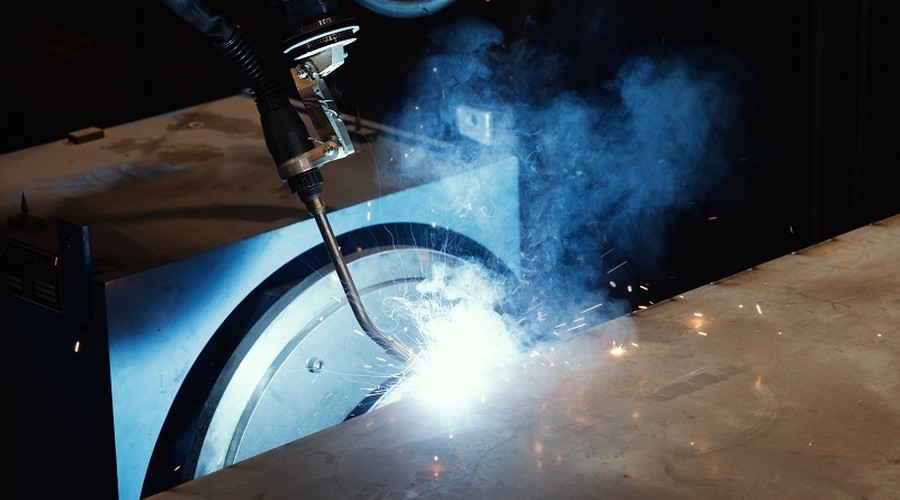 JTK Power has made large investments in automation over the last few years and will continue to do so in the future. Increasing the level of automation in production speeds up the processes and boosts efficiency.
One more recent addition to the factory in Finland is a Yaskawa Motoman robotic welding system that works in production with welding and assisting the other machines. The robot, purpose-built for welding, moves flexibly between two part stations and performs two tasks simultaneously.
"The robot is programmed to perform two tasks at the same time: handling and assembly, and welding of the parts. The welding cycle time is hence faster than if a human did the same job. Thanks to this production is efficient and the manufacture of the products more cost-effective", JTK Power Group Sales Director Janne Virtanen explains.
Faster cycle times and improved production efficiency
The possibilities and advantages of complementing manual welding with robotic welding are many. The robot can weld large pieces that require a lot of work, for example forklift truck chassis and masts, and the frames of forest- and excavator machines and electricity generators. The form of the parts can be round or straight and lifting capacity is up to 10 tonnes.
Above all, Virtanen says, robotic welding delivers faster cycle times and adds hours back to the welders' working week.
"It is especially suitable for demanding welding jobs that require many welding hours. The robot eases the great welding workload and gives our professional welders more time for other jobs, which speeds up the bottleneck and improves production efficiency".
Robotic welding ensures consistent quality
The robot is tailor-made for the products that JTK Power manufactures. Parts are welded in an identical way, hence delivering high and consistent quality. Even so, all products go through a careful quality control before moving on to the next production phase.
"Thanks to a consistent welding quality the robot is well suited for serial production and welding jobs on demanding steel frames. Production load is around 80% at the moment so there is still capacity for more products", Virtanen says.
In addition to welding robots, cobots are employed in the manufacture of axially symmetrical parts at JTK Power's machining workshop in Finland, improving manufacturing capacity and efficiency. In China, the adding of laser cutting at the end of this year will improve the efficiency of the company's cutting processes.
Contact us for more information about our manufacturing services!
JTK Power Group's Yaskawa Motoman robotic welding system
- two part stations, assembly and welding
- lift capacity 10 tonnes
- max. 12 m x 2,7 m x 1,6 m
- suitable for serial production
- pieces include forklift truck chassis and masts, and the frames of forest- and excavator machines and electricity generators.