News
20.04.2022
Grow your career in our international and dynamic JTK Power team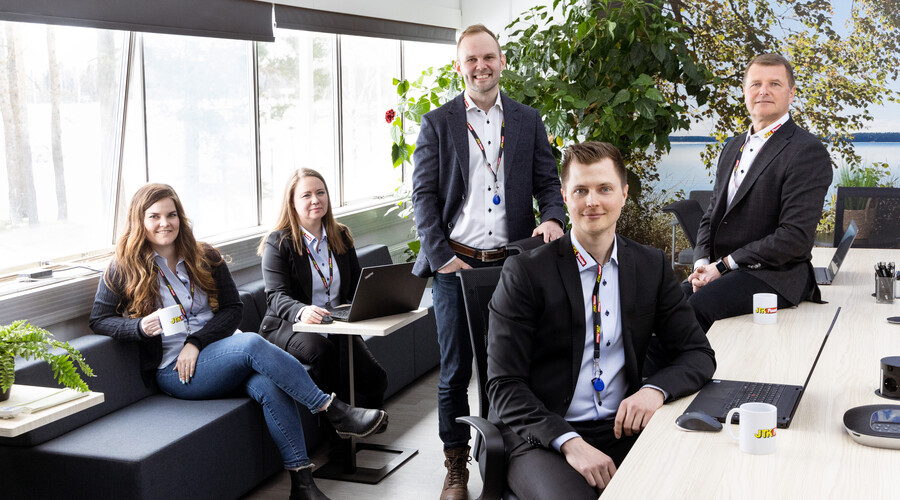 JTK Power Group has been growing steadily for the past few years. To ensure growth and be able to respond to customers' needs, the company is looking to grow its team further. Great opportunities are offered in production, concept- and product development as well as finance and administration. Welders are in high demand at the moment, as well as production developers and design engineers. The company is also looking for a CFO to be responsible for the finance department.
Are you interested in a challenging and independent job, where you can develop and grow in your career? Here's your chance!
Competitive salary and good opportunities for career growth
Being a welder is a heavy job that requires a certain physical strength. At JTK Power, welders work with heavy parts and demanding materials. This in turn places high demands on those who weld the structures together. If you know your stuff, you will also be rewarded for it, says Robert Ollus, CEO JTK Power Group.
"When we say that we manufacture the world's best silencers, it is largely thanks to the fact that our welders are world-class. We understand how demanding the work is and therefore offer a very competitive salary".
Experience in welding is an advantage, but opportunities are also offered to new graduates with aptitude for the profession and a burning desire to learn more. Development and life-long learning is at the core of each employee's professional growth.
"Employees at the start of their career undergo an extensive training program where they are matched with a supervisor, who helps them along the way during the first six months. Experienced professionals who wish to broaden their knowledge can take the role of project manager and assume responsibility for the project as a whole".
Both practical and theoretical skills are needed in the company. The R&D department is looking for reinforcement in the form of product- and production developers. There are also excellent summer job opportunities in development for mechanical designers, Ollus points out.
An international and fair workplace where the well-being of the staff is in focus
JTK Power Group has operations in Finland, Estonia, and China. For those who want to travel and see the world, there are good opportunities to do so. The workplace atmosphere is fair, open, and honest. Showing respect for each other and keeping one's promises is expected of everyone who works in the company.
"We strive for a fair workplace where everyone is treated equally, regardless of title. As an employer, we try to be flexible when it comes to working hours. In return, we expect our employees to show the same flexibility when needed, to do a good job and deliver high quality to both employer and customer".
Major investments are made in the staff's mental and physical well-being and in improving working conditions. The factory in Vöyri has one of the most effective ventilation and filtration systems found in any welding shop in Finland. The clean, healthy air is something you immediately recognize when entering the welding workshop. Tools, equipment, and facilities are modern and constantly improved.
"We invest heavily in ergonomics and strive to have the cleanest air of all welding factories in Finland. We also offer benefits such as Epassi and comprehensive health care insurance".
"It is also important for us that our employees enjoy coming to work. We organize staff parties every summer and Christmas, make excursions and study visits and have regular staff communication meetings".
Join our dynamic team!
We are looking for people who share the same values ​​as us, who want to learn more, challenge themselves and do a good job. A major characteristic of us is that we constantly want to develop. If you start working here today, you can count on growing in your career. If you have the ambition, we will be more than happy to help and support you on that journey.
Sound interesting? Applying and indicating interest in working with us could not be easier. Call, email or send a WhatsApp message and we'll see where it leads!
Contact Robert:
Have a look at some of our current job opportunities
Read more
What is it like working as a welder at JTK Power? Read more (in Finnish)
Engineer turned salesman – Anders Kannelhovi's career path at JTK Power